DeFi France is a monthly meeting to discuss decentralized finance, as well as an ongoing discussion on Telegram entirely held in French. After 6 face-to-face editions since October 2019, DeFi France is now held remotely.
DeFi France is entirely held in French to help native speakers (sometimes not always at ease in English) to keep track and learn about the space.
It is a community initiative led by Mounir Benchemled (creator of Paraswap), Arthur Micoulet (Head of Blockchain PALO-IT) and your humble servant (TokenBrice), as well thanks to the amazing support of the French community: Pascal, Marc, Alexandre & many others !
All the monthly appointments of DeFi France are recorded. You will find them on our Youtube channel: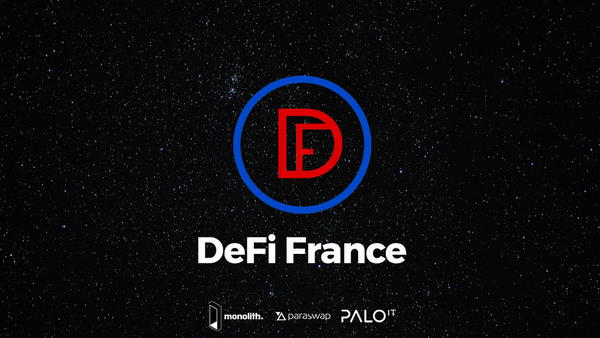 Meetup History
Date
Theme
Participants
30/09/2020
🇫🇷 DF #X - De la ferme à la mine en 5 étapes
Pascal Tallarida, Marc Zeller, Marouane Haiji, Moshe Malawach, TokenBrice
25/06/2020
🇫🇷 DF #9 - Les arcanes de la DeFi - mise à jour avec l'Ether
Pascal Tallarida, Julien Bouteloup, Mounir Benchemled, Brice
20/05/2020
🇫🇷 DF #8 - EthereumXBitcoin : DeFi sur la chaîne Bitcoin, ou BTC sur Ethereum?
Pascal Tallarida, Romain ROUPHAËL, Julien Bouteloup, Adli Takkal-Bataille, Mounir Benchemled
23/04/2020
🇫🇷 DF #7 - Comment prendre et communiquer la mesure du risque dans la DeFi ?
Clément Lesage (Kleros), Marc Zeller (Aave), Jimmy Ragosa (ConsenSys),
Marouane Haiji (Unslashed)
3/3/20
🇫🇷DF#6 @EthCC : La Finance Décentralisée - vers une nouvelle finance
Mounir, Arthur, Brice
13/02/2020
🇫🇷 DF #5 DeFi et Revenu Passif: Prêts, immobilier et réserves de liquidité
Brice (Monolith), Pascal (Jarvis Exchange)
16/01/2020
🇫🇷 DF #4 - La Blockchain, un monde sans loi ?
Clément Lesage (Kleros), William O'Rorke (ORWL Avocats)
12/12/19
🇫🇷 DF #3 - Smart Wallets, Actifs Synthétiques & Finance Décentralisée
Julien Niset (Argent), Thibaut Sahaghian (Multis), Pascal Tallarida (Jarvis)
20/11/2019
🇫🇷 DF #2 - Échanges et gestion d'actifs décentralisés sans intermédiaires
Mounir, Julien, Brice
17/10/2019
🇫🇷 DF α - La finance décentralisée : vers un système financier plus ouvert et transparent ?
Mounir, Arthur, Brice, Pascal et Alexandre
---
DeFi France BlaBla
Initially created to keep the conversation on the main thematic and synthetic channel, DeFi France Bla Bla is a second Telegram for a freer discussion within the community.
Notable Events
July 06, 2020 | Blapening, a concept that refers to the day when/if the BlaBla community outnumbers the main community, was first theorized by TorZilla.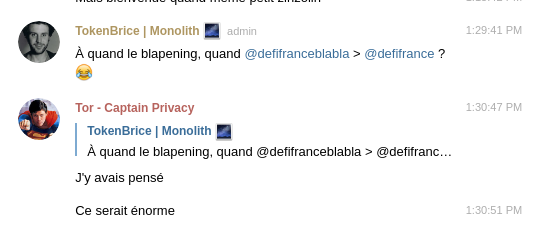 He thus became the first holder of the Wen Blapening? title, which he can now bestow on those who are deserving in his eyes. He will also decide on the next honorary title when the time comes.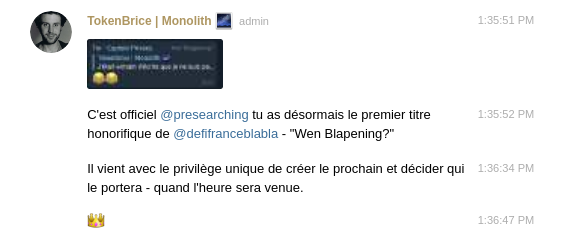 ---
Discovering Decentralized Finance with DeFi France
---
French Community Resource
Here are some French-speaking resources to learn :